gothic_elvis
So, wow, uhm.....Well.
This ep went a little differently than planed/expected, but, overall, not too disappointed I guess. Just a little O_o.
Make that a lot 0_o.
Hmm.
LOVED THE EP, DIDN'T LIKE IT? *WAVES BYE*
Okay I felt so bad for that girl at the beginning. :( After that dude told her she's a three compared to the other waitress I was like ;_; EMPATHY. I SHOWED A LOT OF IT THIS EPISODE.
Dean being so frightened and wary of Sam was total D: I mean, he didn't even want to be in the same ROOM as him; that's fucking terrible.
That exchange they had talking to that girl's sister was a little odd. It was like he was trying to prove to Dean that his methods worked or something. IDEK.
When Sam came back and looked all confused that Dean didn't want to come with him, I was a little :( for him then because it seemed - for a moment - that he was a bit sad about it.
But now we know he can't feel anything so obviously he was fine.
Ugh. I never want to go to the dentist again after that. Ever.
The good or bad drilling? lmaaaooooo
I LOLed at that part in the bar with the chick that was totally pushing her boobs out and how he comes back slowly to look. xDDD Oh Deaaaaaaaaaaaaaan<3 I love it when he does total Dean stuff like that again.
OMG BOBBY THAT PEDICURE THING AND THEN SAYING DEAN WAS HIS FAVE AND DEAN'S LITTLE SMILE. And then saying Sam's the better hunter - at least of late. :|
You guys, that call with Lisa; I was really fucking pissed at first and am like WE'RE LOSING PRECIOUS S&D TIME, GET ON IT PEOPLE.
And theeeeeeeeeeeeen the Wincesty moment. I am only paraphrasing because I can't remember it exactly
The whole "You two have the most unhealthy tangled up relationship." And "Yeah I love my sister but I wouldn't bring her back to life." And Dean then confirming and admitting that, yes, they have issues.
THE WINCEST. IT DOST LIVETH.
LISA ~BELIEVES.
I am rather glad they're broken up now. Cya later Lisa or, ya know, not.
Preferably not
.
Omg that bit with Sam ;_; I was pretty sure halfway through that it didn't work on him and he was lying but when Dean said "Thank you Sammy" in that choked up voice I died a little inside. SO HEARTBREAKING OMFG. That whole scene was...and then Sam's little look coming down the stairs. -_-
I loved that little bit with them both sitting on the bed watching the tapes then Dean, so obviously, getting bored and laying back eating dougnuts [?] and then pizza while Sam just continued watching.
Cause I guess when you can't feel anything you don't get bored and sitting watching the same footage for hours is entertainment enough.
I loved Veritas' house. It was pretty spiffy. Ew with all the dead bodies though; wouldn't want those.
WHEN SHE THREW THEM BACK AND THEY FELL TOGETHER ALMOST HOLDING HANDS D'AWWWWWW SO PRECIOUS.
Cue them being tied up. Again. For the fifty millionth time.
WHEN SHE ATE THAT TONGUE I THINK I WAS GOING TO THROW UP A LITTLE. OR RATHER, DID THROW UP A LITTLE.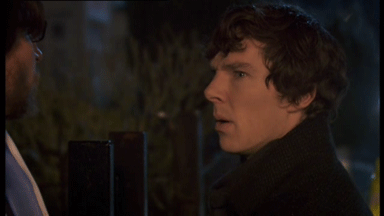 disgusted!Sherlock being disgusted better shows my disgustment.
The truth from Dean we already figured but saying that he wants to kill him and how he's acting like himself and that he was feeling a bit better when he talked to him. GAAAAAAAAAAAAAAAH SADNESS.
"I'm not a father, I'm a killer." /sobbing
Sam, I could tell he was lying...so could tell.
Dean's face when she says he isn't human and lying ;_; OMG IT'S SO SAD YOU GUYS; SO FUCKING SAD. It's like what he said to him earlier obviously meant nothing and was a lie.
Dean holding the knife to Sam...Sam being literally so afraid that he was going to do something....nawelralwemrlawjerawer whhhhhhhhhhhyyyyyyyyy
FINALLY Sam admits he knows something's wrong with him but doesn't care because he's a better hunter. HE DOESN'T ~FEEL ANYTHING.
And then...that ending. :( I literally had a flashback to Swan Song in that moment and I just started sobbing, I couldn't help it. It was too much and the tears just kept flowing. He just...kept hitting and hitting him, just like Luci!Sam did to him. D: WHY DID THEY HAVE TO END IT LIKE THAT THO. PROBABLY ONE OF THE MOST DEPRESSING ENDINGS IN THE HISTORY OF EVER.
Though I do agree with what

qaf_addict_06
said to me on Twitter that Dean was probably only doing it to get him to
feel
since he'd just said he couldn't feel anything anymore. But still...
AND THEN THAT PROMO. OMFG YOU GUYS, YOU REALLY NEED TO START READING SPOILERS. IVE KNOWN SAM HASN'T HAD A SOUL FOR
WEEKS
.
Obviously the truth thing doesn't work with Sam because without a soul there's
nothing there
; no conscious or reasoning for telling the truth because you dont have the notion of truth or what's morally right. You probably just
live
. At least, that's what it seemed like to me. It wasn't really a cop out; I mean, if we'd found out it wasn't a soul Sam was missing I'd have thought it was but now that we know FOR SURE that's whats wrong, I don't think it is anymore.
If I read ONE MORE person after this ep saying they hate Sam I am going to blow a fucking gasket. It's NOT HIM. He has no fucking soul, you can't expect him to be all happy-go-lucky and give a shit about anything when he's soul-less. I mean, come on. They're comparing it to be non-human [which I still don't get entirely but w/e] so of course Sam's acting a little differently. Hopefully now that Dean understands he won't be so wary anymore and will work with Bobby and Cas to figure out how to get it back.
Thank GOD Dean didn't try to kill him though - because, technically, it is his brother, just missing one key piece.
One thing's for sure: I cannot wait for the scene that Sam gets his soul back. I just want him to fucking
smile
really really big like he used to. Awww ;_;
I'm sure that's going to be the main plot for the rest of the season though so I'm sure we have a ways yet till that happens. I hope it isn't in the finale though, I'd love the boys to be the semblance of 'normal' again at least for a few eps before the end. It's been nothing but angst since s4 and I'm getting just a liiitttle tired of it.
This ep
8/10
Very, VERY excited for the next episode!