gothic_elvis
So uhm. Uh. Hi. My brain is currently gone somewhere else that I don't know of, if you find it please return it to Supernatural as THAT IS WHERE MY FUCKING SOUL AND HEART IS. IT BELONGS TO THAT SHOW. GOOD MOTHER OF GOD.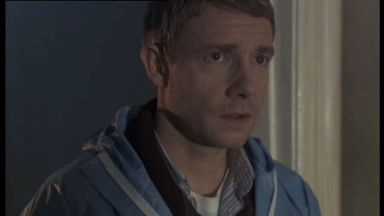 John = me most of the first half of that episode.
Spongebob = me the second half.
So basically the almost complete entirety of the first half of the episode is wiped from my brain thanks to that FUCKING FANTABULOUS MARVELOUS SECOND HALF. SHIIIIIIIIIIIIIIIT SON.
I can quite literally remember very, very little of the first half.
The scene with Sam in the chair was great to me as it seemed very Sam..ish? I dunno, he was acting more Sam there than he has been the entire season.
Sam asking if he was just going to leave him tired up there forever and Dean saying he didn't think that was a bad idea. UHHHH UNNNNNNNNNNNNNNNNNNNNNNNNNNFFFFFFFFFFFFF
FFFFFFFFFFFFFFFFF
And the way he gave Dean the choice to release him but then got out of it anyways was kind of, uhm, hot. lol
Sam scaring Samuel wasn't a good sign lol and awwwwwwwwwwww Dean WE ALL LOVE YOU I SWEEAAARRRRRRRRRRRRRRSSSSSS.
Okay, them leaving Dean behind on alpha vamp fight. KNEW there was something fishy going on there, just wasn't positive. And then seeing them putting him in the van, I for sure knew something was up. lol
AND CAN I JUST SAY RIGHT HERE AND NOW I LOVE IT WHEN DEAN GETS SO FUCKING ANGRY THAT HE SQUEALS THE CAR OVER TO THE SIDE OF THE ROAD ALL...ANGRILY. HEEEEEEEEEEEEE LOVE.
Sam honestly didn't think that Samuel capturing the alpha's and torturing them was strange? Saaaaaaaaaaaaaaaaaaaaam
That fight broke me a little bit and I had a huge-ass knot in my stomach and thought I was going to be sick. If they broke up again I was going to be...well, not happy, to put it lightly.
When Sam went to Samuel I was like :o :( :( :( :( I had a
feeling
that he hadnt actually left Dean and it was a ploy but, again, not positive.
I WAS SO FUCKING HAPPY TO SEE SAM GET BACK IN THAT IMPALA AND DEAN GO ALL 60-40 AND SAM'S SHRUG. EEEEEEEEEEEEEEEEE BOYYYYYYYYYYSSSSSSSSSSSSSSSSSSSSSSSSSSSS
S.
When Dean was hiding under that desk I totally thought Sam was like all smushed up behind him or something and was waiting for the camera to pan behind him. But no dice. Awwwwwwwwwww lol
Torturing the alpha obvs has no effect. SO STOP DOING IT MAYBBEEH?
LOL he knew they were there. He's like a gazillion years old, I think he can detect chu.
And now, the big guns:
Samuel has been asking for the placement of Purgatory? WTTTTFFFFFFFFFFF.
As soon as he started that shit with his gross ass nail though I knew something was going down.
AND WHY ARE THEY BUILDING AN ARMY? WHHHHHYYYY? [So, see, there's still a fewww questions after this episode. hah.]
Enter Samuel with Dopey 1 and 2. Bleh.
HAHA STRIP SEARCH. No not really, just weapons. :/
AND ALRIGHT I WAS SO DISAPPOINT I'D THOUGHT THE VAMP KILLED THAT DOUCHE.
[And the bit with him talking to Sam about using him or whatever? I'M GETTING A FLASHBACK TO SEASON 2 YA'LL. NOT GOOD.]
WHEN THEY BECAME DEMONS I THINK I SCREECHED A LITTLE. LIKE WTTTTTTFFFFFFF
And then, clapping, and how long it took them to show who was clapping. I think when they finally showed FUCKING CROWLEY I was like O_______________________________________
________________________________________
________________________________________
____________O
Then we basically learn...everything. I don't think there's been one single episode where we have learned THIS FUCKING MUCH in, like, five minutes.
Soooo
1. Samuel is employed to Crowley.
2. Crowley pulled both Sam and Samuel up/down.
3. He is the one wanting to know where Purgatory is so he can ~expand or whatever since he's king of hell.
4. And, this is a biggie,
HE FUCKING HAS SAM'S SOUL HOLY SHIIIIIIIIIIIIIIIIIIIIIIIIIIIIIITTTTTTTTTTTTTTTTTTTTTTTTTTTTTTTTTTTTTTTT
I could have sworn on my dead gerbil's grave it was gonna be, like, Balthazar or some other angel or creature we haven't been introduced to yet. BUT OMFG CROWLEY? THAT WAS SUCH A TWIST I THINK I SWALLOWED MY TONGUE.
Questions now are: Why is Samuel working for him? [Why did Samuel get to keep his soul and Sam didn't?] What are the boys going to do nooooww?
So, I'm kind of confused with this buut - what I'm getting is that Samuel sold both boys out and asked to have Sam out with him so they could all hunt for the alphas [knowing he'd go to Dean eventually so that's one more hunter.] I'm, I dunno, a little confused on that bit - I'll have to pay more attention on my second watch.
When Sam pulled that gun I thought it was
Dean
at first and when I saw it was Sam I was all O_o and when Dean pushed his hand down. ungggh. that whole scene was hot.
I still would have shot him though
I mean really? He sold them out.
Apparently. Still confused.
This episode: 9/10
I wasn't bored at all; I thought it was pure amazingness through and through.
And with this whole stupid - STILL GOING ON I REGRET TO SAY- debacle over Sam & Dean I just. I hate it. I hate the whole war between the brothers and who's wrong and who's right. Just
give it up
. I am at the point that I can see both sides of the picture - both of their POV in thinking and am not angry with either one of them for their actions. They both think what they're doing is right and that's what you have to give them credit for.
Obviously Sam's views may be skewed since he has no soul but that's not his fault - do not fucking
blame Sam
.
Holding one brother above the other for variables they can't change or be responsible is stupid and childish. I hope everyone comes to realise this real soon.
AND THAT FUCKING PREVIEW. WTF WAS THAT SHIT. SO CONFUSED. I didn't really notice much cause those weird ass Crowley voice-overs were giving me the skeevies. Going to go watch it again. BUT HOLY SHIT SNIPER!DEAN. SO FUCKING HOT.NNNGGGHHHHHHHHHHHHHHHHHH. I understand asking for no angst between the boys when Sam has no soul is impossible so I'll just ask it's kept at a minimum next ep. :/ Ehhhhhh. I really want his soul baackkkk.
CANNOT WAIT FOR NEXT WEEK! WOOOOOOOOOOOOOOOOOOOOOOOOOOOOO