gothic_elvis
So this is one of those episodes where I basically want to do this
to 3/4 of the fandom. :|
Harry's face = my face.
Yes it wasn't the most action-packed, or WHATEVER episode but it was still good. Glewrmalmclawjerawer
I'm in an...odd mood to say the least, so this is kind of a cracky-ish review where I try to be coherent BUT STILL AMUSING. ALWAYS AMUSING.
I hope.
First off,
BOYS. EATING TOGETHER. BARBEQUE. REAL BONDING MOMENT YOU GUYS. :')
Oh guys and their bbq. :p
Talk about Crowley and he doth appear. o.0
"So quit clutching your pearls." CROWLEY WHY YOU SO AWESOME THO? I literally had a mental image of Dean clutching a string of pearls around his neck, looking all ~scandalized and cracked up so badly.
I :'D at Dean's anger and pain at seeing Sam in pain. HE STILL CARES GUIZ. He knows that's not quite his brother but he still cares.
Can I just say how FUCKING DELISH AND PRESH sleepy!bedruffled!Dean is? GAAAAAAAAAAAAAAAAAH. So adorbs.
And since Sam doesn't sleep I'm, like, 100% positive he spent at least half of the night watching him sleep and the other half just researching. Or maybe the whole night watching him sleep and no research.
WHO THE FUCK KNOWS; ALL I DO KNOW IS THAT HE WATCHED HIM SLEEP.
Cause Dean's the Bella to Sam's Edward and that's what creeper!Ed does...he watches people sleep...and it's rapey.
I know it's probably of no significance whatsoever but the side glance Dean gives to Sam when Carl [was that his name? Forgot already] says "You love your brother, of course." <3 OF COURSE DEAN LOVES SAM'S SHELL. IT STILL LOOKS LIKE HIS SEXINESS.
"Masterful deduction, Sherlock.
= ONE OF THE BEST FUCKING LINES EVER. I was so thankful I'd just swallowed my Red Bull or it would have been everywhere. Oh, writers, how I love thee.
Dean doesn't trust Sam to watch the fam...in all honesty, I wouldn't either. haha
CREEPER!SAM IN THE PARK WITH BINOCULARS. WATCHING YOU SLEEP. WATCHING YOU EAT. WATCHING YOU SHOWER.
Seriously though, the guy just fucking shifted RIGHT IN FRONT OF A NON-BLINDED WINDOW. Is he AN IDIOT? Obviously. Either that or he doesn't think people stay up late anymore, sitting in parks...watching people sleep. o.0
WHEN SAM JUMPED THAT FENCE. WAS THAT SUPERFANTASTICAL OR WHAT? I'd kinda looked away for a millisecond so it looked rather Superman-ish and awesome. Maybe it wasn't as awesome as I think it was. BUT IT SO WAS. GAH.
They had really well trained animals this ep - I'm sure Jared was happy to have so many dogs around. <3
DEAN GET OVER LISA. SHE BROKE UP WIT U. NOW YOU'RE JUST ACTING LIKE A LOVESICK TEENAGER WHO CANT GET OVER HIS FIRST CRUSH. GET OOVVERR ITTTTTT. :| /not a lisa fan obvs
Sam seriously had the BEST one-liners this episode. It's like they shifted them all over from Dean and gave them to Sam.
"Soul or not that's funny."

"Is it a kinky thing?" Then the whole 'roll over' 'speak' thing. omg Sam. Ilu sfm. <3

-"Go to Hell."
-"Already been. It didn't agree with me."
Sam, you can have MY SOUL, you awesome, gigantic man, you. 8D
SAM THROWING THE BALL TO THE WALL OMMMGGGGGGGGGG SAM WHY ARE YOU SO AWESOME EVEN WITHOUT A SOUL? IT'S A FEAT ONLY YOU CAN ACCOMPLISH.
Dean likes to bring up how huge Sam is a lot...methinks he has a bit of a size-kink going on.
Sam, you're scaring me now. BUT DEAN YOU LOOKING RIGHT DAYUM HAWT WITH THAT SNIPER.
NO DON'T TAKE THE SHOT ANYWAY. SAM, TRY TO CARE, PLEASE.
Sam busts in like a mofo on crack and fucks shit up. That whole scene was fucking BA and unf. I love the boys working together.
Why are they both so good? I mean,
really
. They're both excellent at what they do.
Which is why they need to keep doing it forever and ever and never part from each other...ever.
They ate together TWICE this episode. Now if only we could get that lucky with hugs. :p
And now, *sigh*, the last scene. Why does show make you laugh so fucking hard only to drop you back down...on your head...so you're left with a nasty-ass headache.
That whole confession left me :( but ESPECIALLY when Sam admitted that he doesn't even care for Dean. :/ We know that he still does though, in a way, mainly thanks to memory and prior instinct I guess. I know he still doesn't want him to die. But still, that was like a kick to the gut for Dean.
"I don't care about your ex or her son, I don't care about you; I kind of like not having a soul but at the same time know I need it back because if I don't you'll leave me. And I miss caring about you."
His speech in a nutshell, from what I interpreted. The main thing I got from that is that Sam honestly doesn't seem to want his soul back for himself - but because of Dean. He knows that if he doesn't then sooner than later he's going to leave him for good. At least, that's what I'm believing. Since Sam doesn't have feelings why would he care if he gets his soul back or not? Hence, why I believe it's for Dean's benefit.
This episode: 7/10
And,
HOLY FUCKING SHIT NEXT EPISODE YOU GUYS ALWEMRALCMLAJWERO;AHYAOIJER;
LAJERLAJWJ34JLHLAJELDHO4H;JP4Y;ALMLV;
4J3L4JLJH;LJLM LAEWJRLAWJR
WORDS CANNOT BE STRUNG INTO SENTENCES [OBVS] ON HOW MUCH I'M LOOKING FORWARD TO THIS DELICIOUS CRACK FIC OF AN EP. OH LORD.
I can't tell if Dean was screaming FIGHT THE FAIRIES. HUNT THE FAIRIES. EAT THE FAIRIES. OR HATE THE FAIRIES.
either way OMMMMMMMMMMMMGGGGGGG GIMME NOW.
And I'm sure there's already haters for the ep, just like there are now, but, seriously, idgaf. I'm excited for it and that's all that matters to me. Sure I'll rant about the whiny fans but in reality I honestly just don't care anymore. I love show, if you don't, fine, but keep to your hating corner and I'll keep to my sane, loving one.
So screw you haters.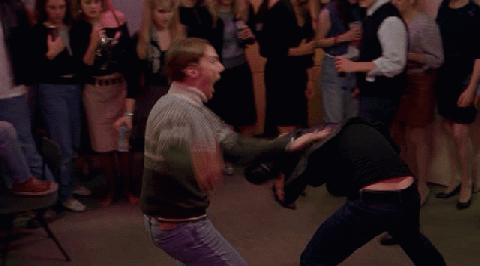 AND OF FUCKING COURSE THIS IS THE EP I'LL HAVE TO WAIT THREE HOURS TO WATCH.
It's the one that will be on at 11-midnight because of the highschool basketball game. :/
I HATE YOU SFM CHANNEL 9. WHHHHHHHHHHHHHHHHHHHHHYYYYYYYYYYYYYYYYYY
YYYYYYYYYYYYY
So I have to stay offline for three hours and then I'll finally be able to watch it. Gah.
So looking forward to next week for multiple reasons:
Harry Potter premiere
the EPIC SUPERNATURAL EPISODE OF EPIC.